C'est avec une profonde tristesse que nous apprenons, ce dimanche, le décès de Jacky Thibaut, l'un des dévoués piliers du Royal Motor Club de Huy depuis de nombreuses années.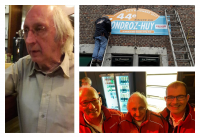 Membre très actif du club depuis 45 ans, dont plus de 20 ans en tant qu'administrateur, Jacky était également le directeur de sécurité du Rallye du Condroz depuis 6 ans.
Le Royal Motor Club de Huy et l'ensemble de ses membres adressent leurs plus sincères condoléances à sa famille et ses proches.
---
It is with deep sadness that we have learned this Sunday the passing of Jacky Thibaut, one of the devoted pillars of Royal Motor Club of Huy for many years.
Jacky has been a very active member of the club for 45 years, including more than 20 years as administrator, and he was also the safety director of Rallye du Condroz for 6 years.
The Royal Motor Club of Huy and all its members extend their deepest condolences to his family and friends.